I was surfing the web the other day…
(Don't you love that they call it surfing? Sounds like I'm doing something really cool…)

Anyway…I came across this cover up…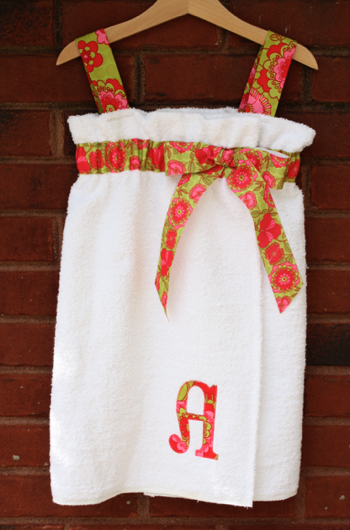 It reminded me of the cover ups we did for the bridemaids at my daughter's wedding. She had great visions of us giving these to the girls and them all wearing them as they got ready. And of course we would have a cute picture of all of them together in their cover ups…
Well, it didn't really happen like that. Most everyone came to our house dressed already. So I was glad I didn't go to all the work of making them from scratch.
We found plain white cover ups at Target on sale for about $8.00 each. We then just bought some ribbon and embellished the cover up a little.
I found the pins at a local shop and just used that to add everyone's initial. I do love love how they turned out…even if the photo op is gone forever.